From 1979 years we have been pioneers in the professional cosmetic chemical sector, always producing innovation with as much enthusiasm and determination as on our first day.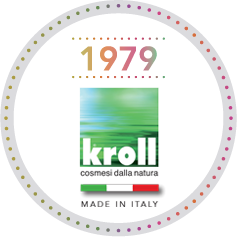 Our story begins with a single product: Pasta Lavamani (hand washing paste).

Kroll introduced the first alternatives to Pasta Lavamani in Italy (professional liquid soaps, professional gel with microspheres), for increasingly specific demands.
1982

We followed our intuition and felt the need to change our work philosophy. Kroll started producing with natural vegetable raw materials from renewable sources.
1986

We became founding members of Kyoto Club Italia.
1988

Kroll produced the first orange based hand wash gel.
1989

We moved our headquarters to Quarto d'Altino (Venice), with 1,600 square metres dedicated to research and production.
1996

Kroll was the first company in Italy to design and patent a packaging with dispenser already included in all products that can be dosed.
1999

Kroll created Bag Volflex® bags as an alternative to bottles and cans.
2000

Kroll designed a machine specifically for the production of bags to be used inside dispensers.
2001

The Bio Kroll line was created.
2012

Kroll designed a new machine for the production of Tango and bag Volflex® bags.
2013

Kroll patented Tango, the support dispenser.
2014

Corporate look restyling.
2016

New natural-based scrubbing agents from renewable sources.
2020

The Black Line was born. The first line of professional hand cleasing products with Vegetable Activated Charcoal - Detox
2021